What Have We Got? Equipment!
Taylor 110E 6 String Jumbo (12 years old)
Baby Taylor - A taylor 6 string guitar but small
Cort KX1F Electric Guitar (14 years old, sounds like the 90's)
Yamaha vintage 12 String Guitar (old enough to know better)
Yamaha Electric Piano P120 (feels like a piano, also does being an organ etc...)
Vintage Stagg Tim Drum Kit with Sabian Cymbals
Fender Superchamp X2 Vintage Modified Tube Amplifier (various effects on amp)
Ashdown Electric Blue 180
Pedals - Boss Tuner & Distortion, EQ Pedal, footswitch for Fender Champ
A couple of other crappy/small amps for jamming/people with interesting recording ideas.
Armstrong Flute - it's quite old... vintage one might say. Sounds like a flute
Penny whistle in D
Tiny little silly casio keyboard from the 80's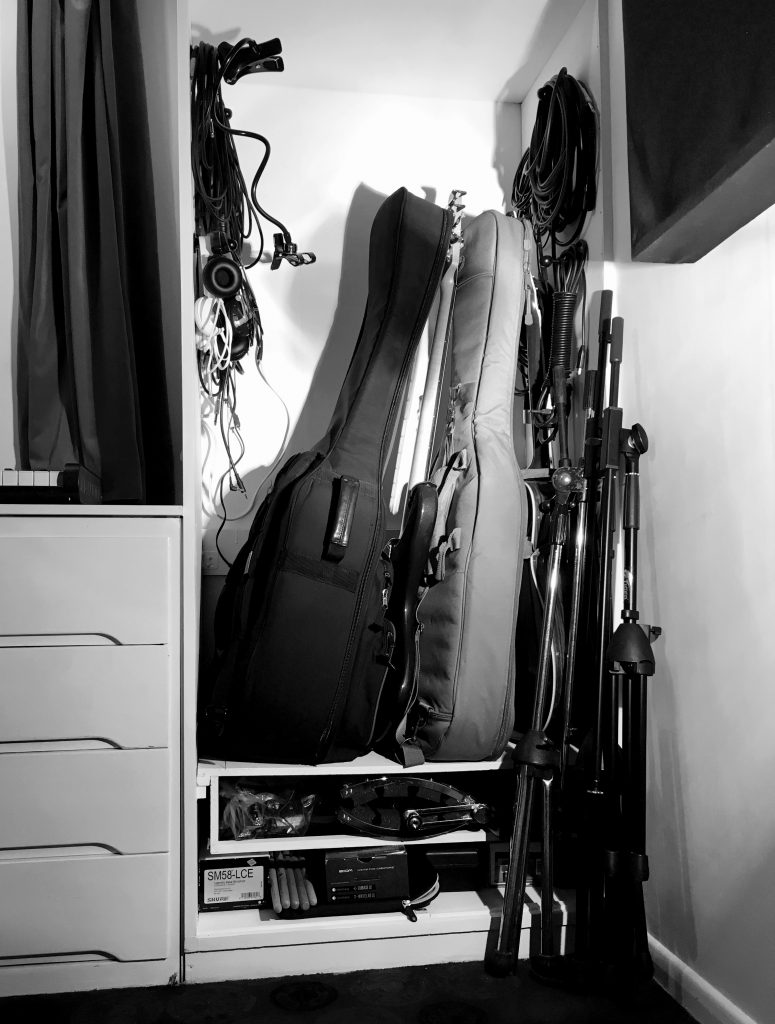 Rode NT1-A Condenser Mic - As close to a £2000 mic as we can get right now
SP B1 Condenser Mic
BM800 Condenser Mic - Cheap mic that really isn't bad
Shure SM58 Beta Dynamic Mic - Top of the range live mic for higher voices
Shure SM58 Dynamic Mic- THE industry standard live mic - also good for recording snare
Samson S2 Dynamic Mic - decent mic
Focusrite Scarlett 18i8 (Inputs: 4 XLR, 4 Jack, Midi)
Genelec 292 - G10W (Industry standard monitor speakers - small enough to carry around with the mobile studio, but plenty loud enough for mixing and playback - we don't even know what full volume sounds like)
M-Audio Axiom 25 - USB mini keyboard interface for electronic instruments
Macbook Pro running Logic Pro X
t.c. electronic C300 Compressor
ART Pro MPA II Dual Tube Microphone Preamp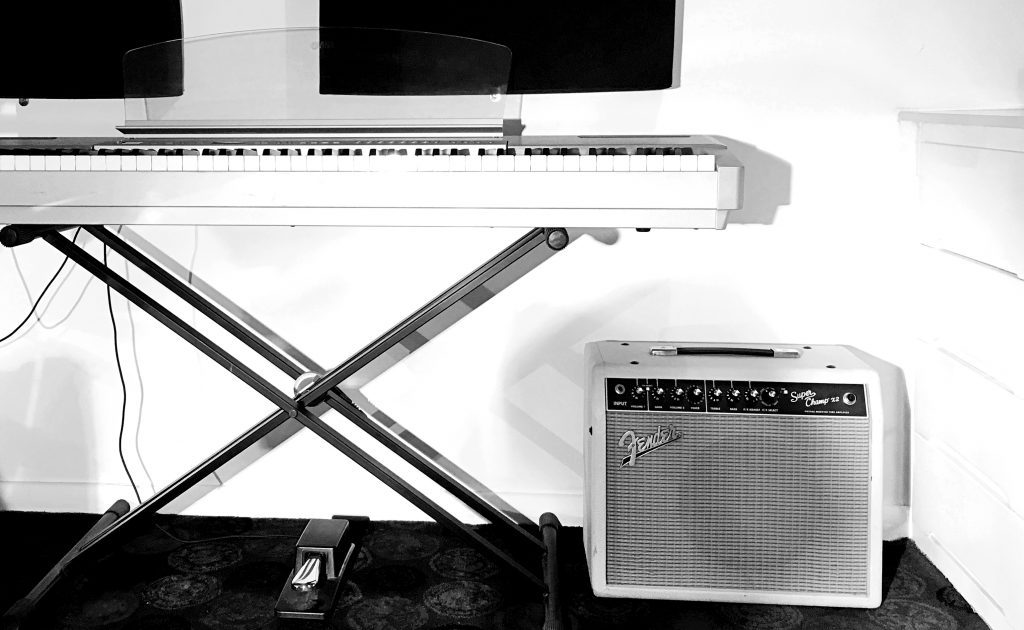 A lot of leads to connect things to other things, headphones, mic stands, all that stuff, plenty of power sockets and usb sockets for your electronic stuff. Music stand and a clippy phone holder thing for lyrics/chords.
Fairy Lights and a colour changing lamp (yup these are important equipment)!